2023-03-21
258 View
Telehealth Consulting Platform Solution
Introduction
---
A telehealth consulting platform is a digital healthcare solution that leverages telecommunications technology to empower patients to connect with healthcare providers virtually, from the comfort of their homes or any remote location with internet access. These platforms facilitate timely medical advice, diagnosis, monitoring, and treatment, ensuring patients receive prompt care without barriers. In an interconnected world, telehealth consulting platforms play a pivotal role in bridging geographical gaps, making healthcare more patient-centric, and aligning it with modern lifestyle demands
Overview
---
A company sought a tailored Single Board Computer (SBC) service to enhance its telehealth consulting platform. Their specific requirements included the need for an experienced IPC partner to collaborate on integrating PTZ (Pan-Tilt-Zoom) cameras with the platform and deploying end-user software. Additionally, the customized SBC system had to serve a dual purpose, functioning as a router to enable remote real-time monitoring and consultation through television access.
Main Requirements
---
A tailored design-in-service.

A High-performance 11th Gen Intel® Core™ processor (codename: Tiger Lake).

A minimum of 4GB RAM and 128GB SSD storage.

The ability to function as an internet router for television remote access.

Compatibility with PTZ cameras.

Support for telehealth consulting software based on x86 architecture.

Fast video transfer with minimal delay for smooth communication.
Medical Computing Solution for Telehealth Consulting
---
CAPA558 is a 3.5-inch single-board computer equipped with the Intel® CoreTM i3-1115G4E (11thGen) processor. This SBC boasts extensive connectivity options and includes two M.2 slots for expansion purposes. The M.2 Key E slot is designed to accommodate Wi-Fi or Bluetooth modules, while the M.2 Key M slot supports SSD storage. Furthermore, the board incorporates a USB power switch, enabling remote rebooting of connected devices.
Customers can leverage the LAN switch feature, effectively using the system as a router or hub. With its dual LAN ports, this platform can serve as an internet hub: one port can connect to the hospital intranet, while the other offers flexible connectivity to a second device. Additionally, the CEC (Consumer Electronics Control) functionality allows for unified control of the system and connected devices via HDMI using a single remote control.
Case Study Benefits
---
The solution based on the CAPA558 is ideal for confined spaces and unique requirements due to the 3.5" small form factor.

Powered by the cutting-edge Intel® CoreTM i3-1115G4E (11thGen) processor available at the time.

Expandable memory capacity of up to 8GB using DDR4-3200 SO-DIMM modules.

Equipped with a LAN switch feature, enabling the system to function as a router or hub.

A dedicated LAN port for Ethernet connectivity with PTZ cameras, facilitating monitoring and control.

Compatibility with Windows operating systems, making it suitable for telehealth consulting software applications.

Integration of CEC (Consumer Electronics Control) for unified system and device control via HDMI, all managed with a single remote control.

Telehealth Consulting Platform based on CAPA558 - Implementation
KIWIboard Product Features
---
CAPA558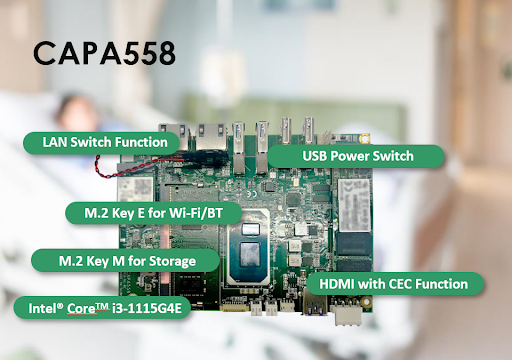 Customized 3.5-inch Embedded SBC

Intel® CoreTM i3-1115G4E processor

One DDR4-3200 SO-DIMM for up to 8GB of memory

Supports Intel® HD Graphics Driver for 4K

Two external USB 3.2 ports and one internal USB 3.2 port

HDMI with CEC function

M.2 Key E for wireless module

M.2 Key M for 128GB SSD storage

Gigabit Ethernet port

Windows 10 operating system