2023-03-21
318 View
Non-invasive Hemodynamic Monitoring Systems
Introduction
---
In critical care environments, where a few seconds can make a difference in saving lives, a hemodynamic monitoring system stands as an indispensable tool, improving patient safety and raising the level of care in healthcare centers. This sophisticated technology plays a critical role in the comprehensive evaluation and treatment of critically ill patients. By continuously monitoring vital hemodynamic parameters such as blood pressure, cardiac output, and oxygen saturation through the bracelet, the system provides healthcare providers with accurate, real-time information about a patient's cardiovascular status. This information is critical to optimize fluid and medication administration, tailor treatment strategies to individual patient needs, and detect early signs of deterioration, allowing for timely interventions.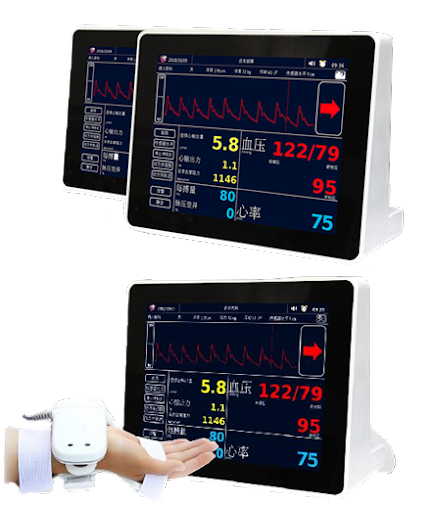 Non-invasive Hemodynamic Monitoring System
Overwiew
---
A renowned International Medical Company embarked on a crucial quest to improve the functionality of its non-invasive hemodynamic monitoring system. Their primary requirement was a single board capable of seamlessly integrating with a 9.7" touch panel and peripheral devices while meeting the strict environmental standards found in hospital environments. Primary goals included a compact form factor that fits perfectly within the system chassis and a fanless design to ensure noise-free operation, critical for healthcare environments. To ensure maximum reliability and provide accurate treatment information, the single-board computer had to be meticulously designed using the most robust and durable components with a long lifespan. Furthermore, compatibility with its specialized operating system, OBERON, was imperative to ensure smooth and efficient system performance. This case study highlights the intricate balance between innovation, durability, and customization in the pursuit of cutting-edge medical technology.
Main Requirements
---
Compact embedded motherboard.

Capable of accommodating a 9.7" LVDS touch panel for control and visualization of patient hemodynamic parameters.

Seamlessly integrates with the OBERON operating system.

Engineered for durability and boasts an extended product lifespan.
Medical Computing Solution for Hemodynamic Monitoring System
---
The PICO842, an ultra-compact pico-ITX motherboard, is engineered to accommodate Intel® Celeron® processors like the quad-core J1900 and dual-core N2807 and offers exceptional performance within its small form factor. This board supports up to 8GB of DDR3L memory and facilitates dual display outputs through HDMI or VGA, as well as 18/24-bit single/dual channel LVDS for vibrant visuals. With a rich array of I/O interfaces, including four USB 2.0 ports, two RS-232/422/485 ports, one Gigabit Ethernet port, HD audio connectivity, and a SATA-300 slot, it empowers versatile connectivity options. Moreover, the customizable BIOS ensures seamless compatibility with different operating systems, making the PICO842 an ideal choice for demanding medical and industrial applications where space, performance, and adaptability are paramount.
Case Study Benefits
---
A compact, single-board solution designed to fit perfectly within the current chassis dimensions.

The seamless and smooth connection between the 9.7-inch touch panel and the single-board platform using the LVDS port for monitoring the patient's hemodynamic parameters.

A tailored BIOS to simplify the integration process with the OBERON operating system.

Advisement on selecting reliable suppliers to combine the chassis with the personalized touch panel.

Non-invasive Hemodynamic Monitoring Systems - Implementation
KIWIboard Product Features
---
PICO842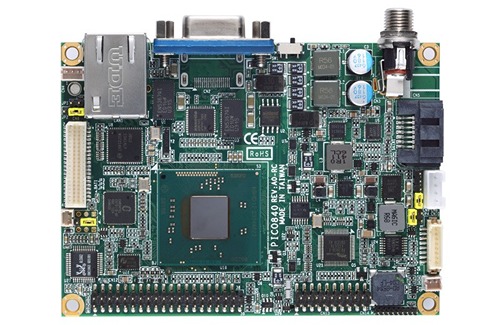 Fanless operation and noise-free

Low power Intel® Celeron® processor J1900 onboard

1 DDR3L-1867 SO-DIMM slot for up to 8GB

4 USB 2.0 ports

LVDS and VGA-supported

1 PCI Express Mini Card slot with mSATA supported

Wide operating temperature range from -20°C to +70°C
Next
Police Car Security Monitoring System