2023-03-21
272 View
Police Car Security Monitoring System
Introduction
---
The police vehicle security surveillance system is a vital technological tool that enhances police vehicles with advanced video recording and monitoring capabilities, ensuring officer safety and enhancing transparency. This system incorporates high-definition cameras strategically positioned both inside and outside the police vehicle to capture real-time images of incidents, interactions with the public, and the surrounding environment, ultimately contributing to a safer community.
Overview
---
In pursuit of building a high-performance security surveillance system for police cars, a company sought an embedded board powered by the Intel® Core™ processor. The challenge lay in designing this embedded board to fit within an exceedingly compact form factor, given the limited space available. Additionally, it was imperative to equip the board with a wide array of I/O interfaces for seamless integration with surveillance cameras, audio recording devices, and alarm systems. Furthermore, the industrial motherboard had to demonstrate exceptional resilience by withstanding wide operating temperature ranges and reliably functioning in the demanding conditions inherent to vehicle applications.
Main Requirements
---
Fanless and compact design.

Intel® Core™ processor.

Equipped with a minimum of 4 USB 3.0 and 1 LAN Port.

Supports operation across a broad temperature range from -20°C to +70°C
KIWIboard Solution for Security Surveillance System
---
The PICO500HGA-i7-6600U is a 2.5-inch embedded single-board computer (SBC) that offers a range of features, including a fanless design and an onboard Intel Core i7-6600U 2.6 GHz processor. This pico-ITX board is extremely compact and is equipped with multiple expansion interfaces, making it an ideal choice for customers who require a powerful CPU, a long product life cycle, and a rugged design capable of withstanding a wide operating temperature range (-20°C to +70°C) with an active thermal solution.
Case Study Benefits
---
Operating silently without the need for fans and small factor for space-saving.

Delivering impressive CPU performance with Hyper-Threading for efficiently handling multiple tasks simultaneously.

Equipped with two expansion connectors that provide extra I/O capabilities, including one PCIe x1 slot, four USB 3.0 ports, 2 UART ports, one DDI interface, and one HD audio output. Suitable for connecting surveillance cameras, audio recording devices, acoustic devices, and alarm systems.

It functions reliably across a broad range of temperatures, from as low as -20°C to as high as +70°C due to its electrical components designed for working in industry environments.

Engineered for an extended product lifespan, ensuring longevity and durability.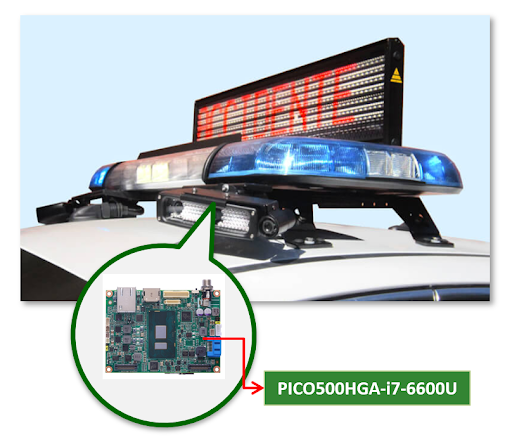 Security Surveillance System for Police Car - Implementation
KIWIboard Product Features
---
PICO500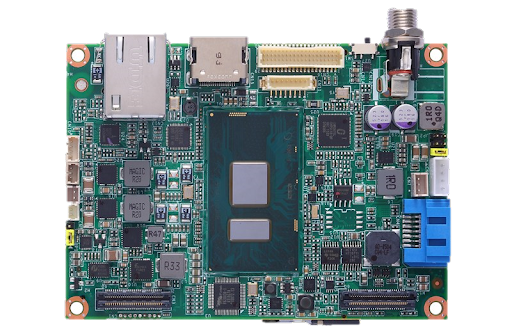 6th gen Intel® Core™ i7/i5/i3 & Celeron® processors (Skylake)

1 DDR4 SO-DIMM for up to 16GB

1 USB 2.0, 1 LAN, 1 HDMI and 1 LVDS

1 SATA HDD and mSATA

1 PCI Express Mini Card slot

2 expansion connectors with additional I/O signals (1 x PCIe x1, 2 x UART, 1 x DDI, 4 x USB 3.0, and 1 x HD audio)

Intel® AMT 11 supported

AXView 2.0 intelligent remote management software