2023-09-18
183 View
Master the KIWI310! Your Essential Guide to Assembly and Start-Up
Upon first glance, it is evident that the structural design of each KIWIboard is a gem of engineering. In the case of KIWI310, it is as small as a credit card but solid as a rock. In our previous post, we shared the essential characteristics of the KIWI310 single board with x86 architecture, now it's time to get to work and assemble all its parts!
We have created a quick preview of the *APC208 accessories using numbered labels and an exploded view. The overall structure is quite simple, and those with basic DIY experience can easily assemble it.
APC208 Top Cover

M3*4L Screws x 5

Heatsink x 1

SMT Gasket x 1

KIWI310 SBC

Bottom Cover x 1

Antenna Mount Cover x 2

Thermal Pad x 1

Copper Standoffs M3L x 1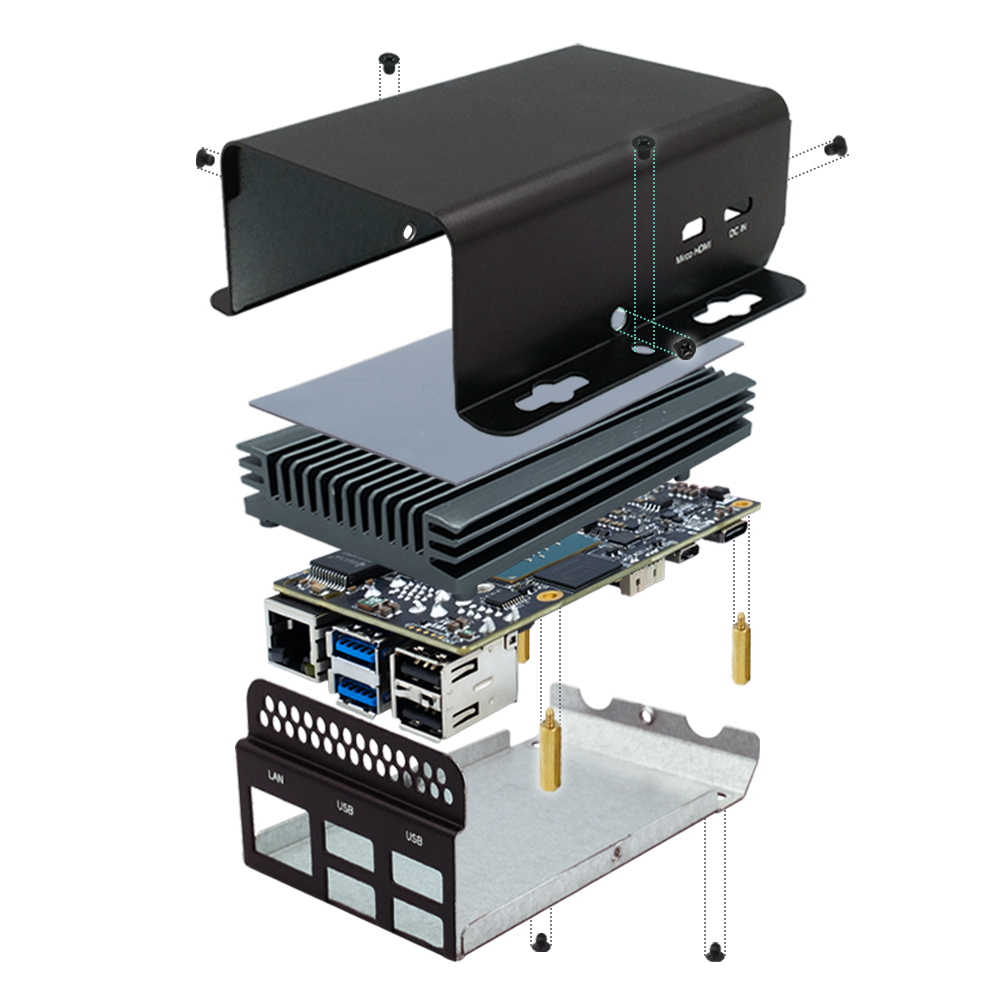 APC208 enclosure kit and KIWI310 platform
*Note: The APC208 enclosure is currently available as an optional accessory kit.
How to assemble the KIWI310?
---
Next, let's see how easy it is to assemble this mini-computer!
1. First, as we assemble the APC208 microsystem, we will replace the 4 screws with 4 copper standoffs. During the assembly process, we need to make sure to align them with the corresponding screw holes.
KIWI310 top and bottom view and copper standoffs
2. Attach the copper standoffs by hand-tightening, use a 5mm hex socket tool to secure them. The recommended torque value is set to 4kgf-cm.
5mm hex socket to secure the standoffs
3. Apply an SMT Gasket between the Rear IO and the PCB, which is commonly seen in high-end EMC/EMI compliance devices. Apply the SMT gasket along the edge of the PCB and the heatsink. This helps to insulate and conduct, to some extent, protecting the delicate components on the KIWI310 board.
SMT gasket between PCB and heatsink for insulation
4. Place the Bottom Cover over the Rear IO and align it with the two locking holes on the other end. Use a cross-head screwdriver to secure it in place.
Securing the Botton cover with screws
5. Take out the thermal pad and remove the transparent release liner. Then, align the thermal pad with the surface of the heatsink and stick it on.
Thermal Pad for perfect heat transfer
6. Take out the Top Cover and place it over the assembly.A quick comparison reveals that the screw holes and IO positioning of the casing are both very precise, demonstrating careful and thoughtful design.
Precise screw holes and IO positioning
7. After securely fastening the five screws on the outer casing, your assembly process is now complete. The original KIWI310 is already an intriguing single-board computer, but with the addition of the APC208 enclosure, it gains an extra layer of protection, allowing you to confidently transport it anywhere without worrying about damage from collisions caused by movement or vibrations during transport.
In stark contrast to traditional personal computers that often require tedious manual referencing of instruction manuals, intricate wire assembly, and complex configurations, the KIWI310 paired with the APC208 mini system offers a truly effortless experience!
Don't delay any longer and become a Kiwiboard expert today! Transform your ideas into reality and let's collaborate to achieve the best results for your projects.
About KIWIboard
---
KIWIboard is a complete solution provider, supporting all aspects of your project from hardware to software to system integration to keep your application running securely, reliably, and at peak performance. KIWIboard builds its products for high reliability, high performance, security, scalability, and versatility. So customers can expect a long lifespan, quickly adapt to evolving system requirements, and adopt future technologies as they emerge.
Next steps
---
Ready to talk about your projects with a KIWIboard expert? Contact us
Want to hear more from KIWIboard? Sign up for our newsletter
Or request a quotation